I have won a runner-up prize in MSTERCHIEF-2
URL OF RECIPE----http://santoshbangar.blogspot.in/2011/11/mahjong-snacks-sesame-sweet-potato.html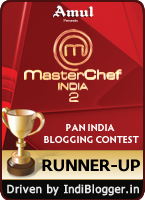 Ingredients
spinach-1 bunch
paneer-250gm
ginger garlic paste -1tsp
onion 2 small grated
tomato-2 pureed
turmeric powder-1/2 tsp
coriander powder-1tsp
red chili powder-1/4 tsp
garam masala-1/4 tsp
hing-pinch of
salt to taste
milk-1/2 cup
oil
METHOD
Wash palak and boil it. after boiling rinse in cold water so its color is intact.grind it in blender.
heat little oil in a non stick pan a and saute paneer and roast it make light brown.Now heat oil in pan and dd hing then add onion fry till brown .Add garlic ginger paste and fry it .now add all dry masalas except garam masala.now add tomato pureed fry till oil comes out.add palak and milk. when it is boiled add paneer after five minutes. cover it so every thing mix well.at the end when it is done add garam masala.add cream if like
Eat with nan chapati pratha.........